This impressive promenade stretches from the Place the la Concorde to the Place Charles de Gaulle, the site of the Arc de Triomphe. At its western end the Champs-Elysées is bordered by cinemas, theaters, cafés and luxury shops. Near the Place de la Concorde, the street is bordered by the Jardins des Champs-Elysées, beautifully arranged gardens with fountains and some grand buildings including the Grand and Petit Palais at the southern side and the Elysée at its northern side. The latter has been the residence of the French Presidents since 1873.
Celebrations
The Champs-Elysées is used for all the major celebrations. This is where Parisians celebrate New Year's Eve and where the military parades are held on the 14th of July. Historic national events, like the Liberation at the end of the second World War or the victory in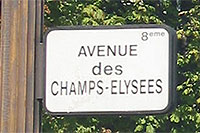 17th century – The Elysian Fields
In the 16th century this area was nothing but fields outside the center of Paris. In 1616 Marie de Medicis decided to create a long tree-lined path going east from the Tuileries. The route was redesigned in 1667 by renowned landscape designer André Le Nôtre as an extension of the Jardins des Tuileries. The promenade, now called 'Grande Allée du Roule' or 'Grand-Cours' had become a fashionable place but was still isolated from the city with few buildings surrounding the area. 27 Years later the promenade was renamed to 'Champs-Elysées', or Elysian Fields in English. The name was derived from Greek mythology where 'Elusia' is a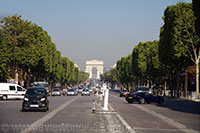 place where heroes come to relax.
18th & 19th century – Further Development
In 1724 the Champs-Elysées was extended all the way to the Chaillot hill (now known as l'Etoile, the site of the Arc de Triomphe). Its current form took shape in 1838 when French architect Ignaz Hittorf – who was redesigning the Place de la Concorde – created the Jardins des Champs-Elysées. He also installed sidewalks, gas lamps and fountains. The Champs-Elysées started to attract more and more restaurants and hotels, especially after 1900 when the Paris métro line nr 1 reached the Etoile station.
Current Design
The lastest redesign of the prestigious avenue was done in 1994 by Bernard Huet. The side lanes were converted into pedestrian zones, an underground parking lot was created and new trees were planted. Cars now only occupy half the width of this grand avenue.